This article is brought to you by Allan Bush at CIBC Wood Gundy Waterloo
Yesterday, the Tri-County Thunder program was excited to celebrate the official signing of Courtney & Candice Wright's scholarship commitments to the University of Vermont. In 2011 they made verbal commitments to the coaching staff but today the six foot twins made it official and we were honoured to celebrate their Division 1 NCAA accomplishment as a program and with their parents.
The Tri-County program also announced that four of their players made it onto provincial teams this summer representing Ontario. Congratulations to: Kate Moran (U15), Mackenzie Obermayer (U15), Julianna Thomson (U17) and Nyamuoch Teny (U17).
We also honoured 5 of our local players who received invitations to the Team Canada Cadette and Jr. National Team Final Tryouts. These invitations are given out to the top 20 players in the country and we wanted to celebrate that recognition alone. They included: Jama Bin-Edward (Cadette), Kate Moran (Cadette), Julianna Thomson (Jr. National), Kendra Van Leeuwen (Jr. National), Nyamuoch Teny (Jr. National),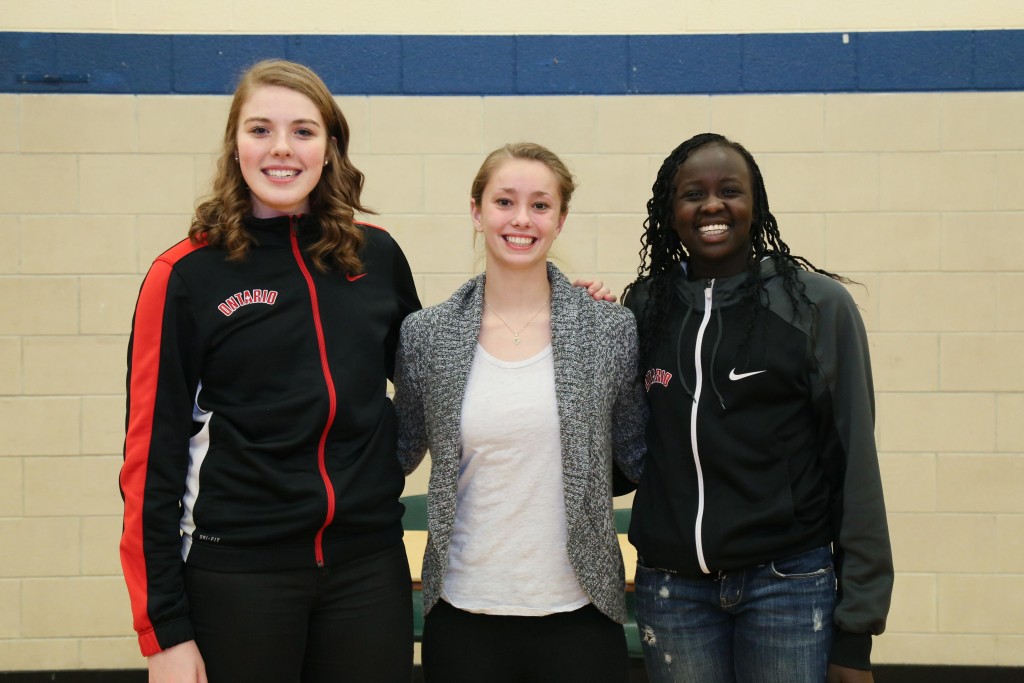 Finally, the Tri-County Thunder AAU program announced that this summer they will compete in Kentucky and Nashville to gain exposure in front of hundreds of NCAA coaches. Good luck, ladies!
As the Tri-County Program we are excited to see girls move forward in their basketball careers and eager to see our younger athletes have the opportunity to share their talent with onlooking scouts and coaches in the CIS and NCAA.