This article is brought to you by Allan Bush at CIBC Wood Gundy Waterloo
Tri-County Thunder Alumni, Taite Cleland is now playing basketball and studying Criminology Ryerson, completing her TC Basketball career in 2018.
She chose to be a Ryerson Ram after experiencing their team culture and she is excited to play with both talented coaches and athletes that are close to each other and eager to win.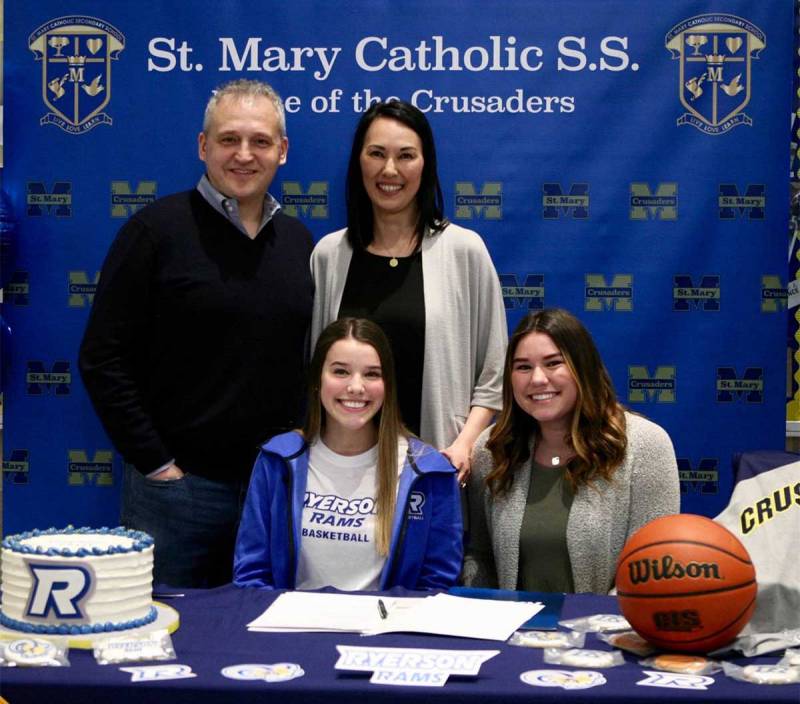 When looking back at her Tri-County experience, the most memorable moment for her was their team experience in Florida.
Going to Florida gave our team the opportunity to grow together off the court and strengthened our family feel.
Taite acknowledges that,
Before I played at Tri-County I was a very undersized playmaker. I would forget that I could score too. The biggest change in my game came from the confidence my coaches and teammates gave me. I began to shoot even if I was guarded, or take a risk and go for a steal. As my confidence grew, my game did too. I was pushed to be a leader and take charge of the floor, but also to be a better teammate.
Off the court, she acknowledges that Tri-County grew her in other dimensions. 
Participating in fundraisers, donating to charities, and giving back to the community truly inspired me to become a better person.
Now, she is most excited to experience the caliber or post-secondary competition.
As a freshman, I'm very excited to play alongside such a talented group of players and under decorated coaches. I know there is a wealth of knowledge the veterans can share with me that will help me grow as both a basketball player and a person.
Taite acknowledges that moving away from her home and consistent network of community evokes some anxiety but she is looking forward to the challenge. 
She shares that she would encourage younger student-athletes to choose the path that best suits them, not their friends, parents, coaches, etc. 
Trying to narrow down post-secondary options can be very stressful, but staying true to yourself and goals lightens the load. A big thing for me was developing a positive relationship with my coaches, Carly, Jess, and Vadim. Establishing relationships with them really helped me choose Ryerson.

Having a solid and honest relationship strengthened my trust and confidence in signing with the Rams! I would also say focus on what can academically satisfy you as well, not just the basketball side of things.
She urges those considering post-secondary play to,
Be confident going in and don't be afraid to put yourself out there! Taking risks is key to improvement. Getting better means taking risks that could end in failure so you can learn and grow from them.